In our view, representative distinction is no longer a relevant criterion.
In addition to obvious aspects such as sustainability, costs, or feasibility, the focus is now on sociality (open, inviting & inspiring vs. forbidding, intimidating & "powerful"), aesthetic enrichment of the cityscape, seriality, and parameterization. As a result, clients and architects are now more challenged than ever before when it comes to the aesthetic design of the outer shell. Because, as Manfred Wenzel writes in his programmatic introductory article: "A façade today can be anything and nothing: a tectonically joined structure or a membrane stretched over a large area, sustainable in the sense of the circular economy, selected materials or a media-laden façade show. The spectrum is as fascinating as it is arbitrary." You can read more articles from the magazine here.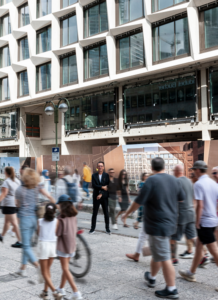 DBZ also recorded its new podcast episode (25 min.) in addition to the magazine. Our Chief Design Officer Andreas Derkum and Jorge Luis Pinares, the head of our competition department, were the editorial team's interview partners. They talk about combining serial production with individual expression and aesthetic variability. And about what our cities of tomorrow could and should look like.